Chef Andy Stewart
(December 23, 1957 - April 7, 2020)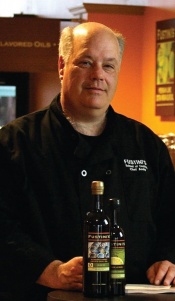 It is with profound sadness that the Fustini's family mourns the sudden but peaceful passing of our Corporate Chef, Andy Stewart. His laughter, stories, friendship and kindness will truly be missed. He has inspired countless staff, class attendees and those just passing through our kitchen with suggestions and encouragement to 'do what works best for you.'
View our tribute to Andy HERE.
---
My relationship with Andy changed quickly one spring day 7 years ago. Sitting around the dinner table with my sister Nancy, nephew Ted and brother-in-law Andy I listened to their ideas on how Fustini's could make a good business with cooking classes. Huh! Really? OK! So then he went from being golf partner, family chef (Uncle Cooker) and great guy to hang with to all that PLUS Fustini's Corporate Chef. Designing the kitchens in each store, then building a class following and generating cookbooks. He has left a lasting fingerprint on everything we do in the kitchen. Super positive influence. Why? He was so interested in everyone sitting across the counter from him, great listener, infinitely informed on culinary, happy and fun. Andy lit up like I'd never seen on our two group trips, one to Italy and then last fall to Spain. Not one known for written communications, the note I got after our Spain trip detailed almost every food dish we had over the week we were there. I have been privileged to know Andy as a great instructor and advocate for Fustini's, but more importantly as a great father of Samantha and Ted, husband of my sister Nancy and friend.
--Jim
#FustiniQuarantini: At Home Cooking Inspiration
The Fustini's Team continues to create fun, easy cooking videos for you and your family to follow along with. Check out our station HERE for a complete list and check back often for new recipes.
Did you create your own Fustini's masterpiece? Post your cooking videos on our Facebook page!
Tasting Bars Currently Open
Missing your local Fustini's tasting room, don't worry! Several of our tasting bar partners are open:
Fresh Coast Market - 7270 N. Long Lake Road, Traverse City
Fresh Market - 355 Fisher Road, Grosse Point
Friske's Farm Market - 10743 US - 31, Ellsworth
Glenwood Market - 417 River Street, Manistee
Hansen Foods - 91 W. 4th Street, Suttons Bay
Willow Market and Meats - 916 S. Mitchel, Cadillac
NORTHWOODS Hardware, Home & Garden, 6053 S Glen Lake Rd, Glen Arbor
Boyne Country Provisions - 127 Water St. Boyne City
Central Park Market - 1158 South Shore Drive, Holland
Almond Cake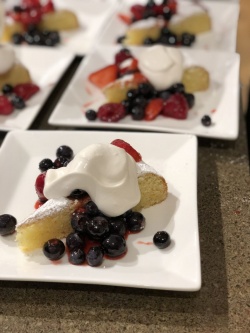 Ingredients
1 Cup cake flour
1/3 Cup almond flour
1/2 tsp baking powder
1/2 tsp baking soda
Pinch kosher salt
1 1/2 sticks butter, soft
1 Cup sugar
2 eggs, room temperature
Zest of one orange, finely grated
Zest of one lemon, finely grated
1/2 tsp almond extract
1/4 tsp vanilla extract
2/3 Cup sour cream
Confectioners' sugar
Preparation
Preheat oven to 350 degrees and butter and flour the inside of a nine-inch spring form pan. Whisk together all the dry ingredients and set aside. Place butter and sugar in the bowl of a stand mixer fitted with the paddle attachment and cream together. Add eggs, one at a time, scraping down the sides as needed. Add orange and lemon zest, almond and vanilla extracts, and Fustini's Cara Cara Cream Balsamic Vinegar and process until well combined. Reduce speed to low and gradually add the dry ingredients, scraping down the sides as needed, until combined. Add sour cream and mix until just combined. Pour batter into prepared spring form pan, smooth the top and bake in preheated oven until the top springs back when touched and a toothpick comes out clean from the middle, 30 to 40 minutes. Let cool on wire rack for 10 minutes, then release the spring form, invert the cake to remove the bottom of the pan, and re-invert to cool completely. Sprinkle liberally with confectioners' sugar.
Warm Berry Compote Ingredients
1 pint raspberries
3 Tbsp sugar
1 Tbsp lemon juice
1 pint strawberries, sliced
1/2 pint blueberries
Warm Berry Compote Preparation
Place 1/2-pint raspberries, Fustini's Raspberry balsamic vinegar, sugar and lemon juice in small saucepan. Place over low heat and cook until raspberries break down and sugar is dissolved. Press through fine mesh sieve to remove the seeds. Place the rest of the raspberries, strawberries and blueberries in a bowl and pour the warm raspberry puree over the top. Gently stir together and serve immediately.
Antipasto Salad
Mozzarella Ingredients
Mozzarella Preparation
Mix all together and refrigerate overnight.
Dressing Ingredients
Dressing Preparation
Whisk together vinegar, mustard, garlic, lemon juice and Tuscan Herb spice blend in bowl. While whisking, slowly drizzle enough Fustini's Delicate Single Varietal to emulsify the dressing. Use immediately.
Salad Ingredients
2-3 oz genoa salami, chiffonade
1/4 Cup pepperoncini, sliced
1 Cup iceberg lettuce, chiffonade
1/4 Cup castelvetrano olives, sliced
6-8 basil leaves, torn into pieces
Mozzarella from above
Fresh cracked black pepper
Salad Preparation
Place salami, Pepperoncini, lettuce, olives, and basil in large bowl and pour dressing over top. Gently toss to coat and divide between service plates. Place mozzarella around and serve with fresh cracked black pepper. Serves 4-6
Fresh Fettuccini with Garlic & Caper Tomato Sauce
Pasta Ingredients
3/4 Cup semolina flour
1/4 Cup all purpose flour
Pinch salt
1 egg
2-4 Tbsp cold water
Pasta Preparation
Place semolina, flour and salt into bowl and whisk to combine. Add oil, egg and 2 tablespoons water and mix with fork to break up egg and wet dry ingredients. Add just enough water to form into a ball. Knead ball a few minutes then let rest 10 minutes. Roll out in pasta machine to approximately 1/8-inch-thick and cut into fettuccine. Cook pasta in rolling salted boiling water for a few minutes. Drain well and toss with sauce.
Garlic and Caper Tomato Sauce Ingredients
3-5 cloves garlic, minced
1/4 Cup capers, chopped
1/2 Cup white wine
2 fresh tomatoes, peeled and chopped
Garlic and Caper Tomato Sauce Preparation
Place Fustini's Robust Single Varietal olive oil in large skillet over moderate heat and add garlic. Cook garlic 1 minute making sure not to burn. Add capers and continue cooking another minute. Add wine and cook until the alcohol smell is gone, 5 minutes. Add tomatoes and cook until they break down, 20 minutes. Toss with cooked pasta and serve immediately with some finely grated Parmesan cheese. Serves 6-8
Quick Links
---
Cocktails with Neighbors--Tomorrow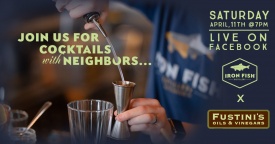 Join Fustini's and Iron Fish Distillery on Saturday, April 11 at 7 pm EST for cocktail hour. During this FaceBook Live party, Iron Fish will be creating a "Blue Bear" cocktail using Fustini's Iron Fish honey vinegar. Learn more HERE.
---
A Gift of Taste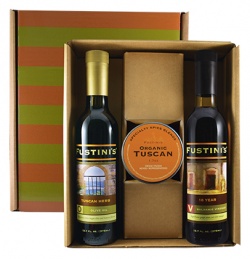 Missing your friends and loved ones? Maybe you'd like to send something special to your child's teacher? How about sending them a gift of Fustini's oils and vinegars? We have individual bottles, gift packs, samplers and $9.95 flat rate shipping. Click HERE to shop.
---
Need Your Fustini's Fix Safely While We are All on Stay-at-Home
Customer Service Hotline: Monday Through Friday
We are here too answer your Fustini's questions Monday through Friday from 9 am-4 pm EST, 231-267-3107.
Shop Your Store Day
Every Tuesday from 1-3 pm EST, the store manager of your local Fustini's will be available to host you over the phone with audio or FaceTime for shipping or pick up orders. For your convenience, here are the store phone numbers:
Ann Arbor (734) 213-1110
Holland (616) 392-1111
Petoskey (231) 758-3575
Traverse City (231) 944-1145
*Please note that our Ann Arbor store is unable to participate in pick up service.
Free 60ml Sample Bottle
When you place your order, be sure to request the 60ml sample bottle of your choice of our oils or vinegars. It's a great opportunity to try something new!
Frequent Buyer Club
And, don't forget to use your email and receive Frequent Buyer points. You'll receive a free bottle once 11 are purchased. Checkout our video with more information HERE.
---
Kids' Food Basket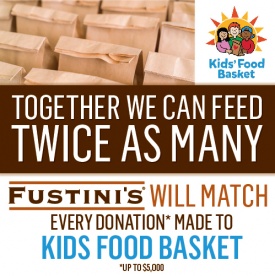 Thanks to our wonderful customers, we are half way to our $5,000 goal for Kids' Food Basket!
The needs in our communities continue to escalate. One particular group we're focusing on is children. Kids' Food Basket of Holland, MI is providing meals to over 1,100 kids but because of school closings the challenges this non-profit face have increased dramatically. So, Fustini's will match every dollar donated on our Facebook page. Please join us in supporting Kids' Food Basket now by clicking HERE.
---
| | |
| --- | --- |
| | Visit us on facebook to tell us how you use FUSTINI'S or to learn more about how to enhance your food with Fustini's. |