Just In...
As a father I am quite grateful to be safely quarantined with my two daughters, Katie and Mallory (Ginger & Honey!). If not for this corona virus I doubt that we'd ever have had the opportunity to spend this much time together. We take long walks, run errands, hang out and play table games.
A huge part of each day centers around meals--planning, prepping, cooking and then enjoying it all at the table together. I'm impressed and proud of the capabilities they've developed in the kitchen. Flavorful, clean and healthy food--the Fustini's way!
I feel so fortunate. I expect most of the dads out there feel the same way. If dad likes to cook, or if you love to cook for dad, I hope you might be inspired with some of the Father's Day recipes and gift ideas in this eNewsletter.
In the meantime, Stay safe and eat well. We will be together soon.
--Jim

Facebook Live--Fridays at 3 pm!
Join us for this week's "Fridays with Fustini's," Father's Day Favorites, on Friday, June 12 at 3 pm EST. Whether you are a grill master or a home chef in the making, we will share ideas just in time for you to create them for Father's Day.
Tune in HERE and we will also be able to answer any questions you submit during the session. FaceBook olive oil and vinegar sets will be available at a 15% discount.
Last week's sets are available through today (June 11). New product sets will be available starting Friday to coordinate with the new recipes presented. You can see current sets on our website in the "New Items" category.
If you missed a Friday, previous Facebook Live events can be seen on our Youtube channel.
Ann Arbor's Delicious Decade
Fustini's Ann Arbor is celebrating 10 years with their Delicious Decade fundraiser that is revving up through August. We will donate $1 for every bottle purchased in our Ann Arbor store to Food Gatherers of Washtenaw County, along with matching any donation made through this Facebook link up to $5,000.
Food Gatherers serves 170 nonprofits and programs providing direct food assistance in the form of hot meals, nutritious snacks or emergency groceries to low-income adults, seniors and children in Washtenaw County.
If you'd like to help us meet our goal, please make a purchase in our Ann Arbor location or donate through our Facebook fundraiser HERE.
3 Simple Ways to Buy Fustini's
Until we are able to offer tastings, we encourage you to choose one of our 60ml bottles for free. Just request your sampler bottle with your order or add to "instructions" with an online purchase.
1. Online Ordering
• Become a member of our Frequent Buyer Program. Benefits are listed here.
• For Frequent Buyer Members ordering online - this short video will explain the steps to link to your current account.
• Online orders are not available for curbside service
2. Curbside Ordering
• Call or email your store for a curbside order. Information is listed below. This short video will show you how it works.
• Give your information for being a part of our Frequent Buyer Program. Benefits are listed here.
3. In-Store Shopping
• Things may look a bit different, but we are here to help you in making healthy, delicious food choices! Our staff is comfortable with the new procedures to keep everyone safe. You'll see them posted when you walk in.
• Give your information for being a part of our Frequent Buyer Program. Benefits are listed here.
• Know we have a smile for you under our masks.
Curbside and Store Hours
With our curbside pick up option, you can drive up for your order at any of our four stores, updated hours are listed below. Here's a quick video to show you just how easy this works, CURBSIDE.
Traverse City (231) 944-1145 • karen@fustinis.com
Mon-Thur 10-6 pm, Fri-Sat 10-7 pm, Sun 10-5 pm
Petoskey (231) 758-3575 • charlene@fustinis.com
Mon-Sat 10-5 pm, Sun 11-4 pm
Holland (616) 392-1111 • lori@fustinis.com
Mon-Sat 10-4 pm, Sun 11-3 pm
Find us at the Holland Farmer's Market, Saturdays from 8-2 pm.
Ann Arbor (734) 213-1110 • nanci@fustinis.com*
Mon-Fri 10-5 pm, Sat 9-4 pm, Sun 12-4 pm
*Please note: Ann Arbor pick up is on the 2nd floor of Kerrytown. Online orders are not available for curbside service.
Quick Links
---
Recipes to Celebrate Father's Day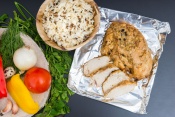 Here are some fun grilling ideas for kids to create for dad with easy grill clean up. You can use the oven if it rains! Personalize it for dad with his favorite Fustini's flavor!
---
Kids' Food Basket Donations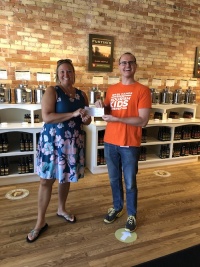 Thanks to everyone who helped make our Kids' Food Basket (KFB) fundraiser a success! We were able to donate $5,000 and also an additional $2,800 from our Facebook donators!
With this donation, KFB is able to expand in the Holland area. They are looking forward to moving into their new facility. Then, five schools that have been on the waitlist will be able to be served.
---
| | |
| --- | --- |
| | Visit us on facebook to tell us how you use FUSTINI'S or to learn more about how to enhance your food with Fustini's. |