Just In...
We are now coming into the dead of summer, so it's time to pull out those great summer recipes and serve them out on that patio table, picnic table or in the dining room. If you've not spent much time on our Recipe page lately I highly recommend it. We really do have some great ideas. In excess of 800 recipes have been contributed by our customers, staff and chef partners, each showing unique ways to incorporate our oils and vinegars. Two of my summer favorites are listed below in this eNewsletter. This weekend I'm preparing both the Goat Cheese Mushroom Burger and Chef Andy's Peach Deviled Eggs. I also might get talked into a repeat of the Asparagus and Leek Frittata for the Sunday brunch we're planning.
I hope these recipes inspire you as they have me.
Enjoy, stay safe and eat well. We will be together soon.
--Jim
Facebook Live--Fridays at 3 pm!
Join us for this week's "Fridays with Fustini's" on Friday, July 10 at 3 pm EST. Jim and Denise will show you easy summer recipes that take advantage of grilling, as well as summer produce.
Tune in HERE and we will also be able to answer any questions you submit during the session. FaceBook olive oil and vinegar sets will be available at a 15% discount.
Last week's sets are available through today (July 9). New product sets will be available starting Friday to coordinate with the new recipes presented. You can see current sets on our website in the "New Items" category.
If you missed a Friday, previous Facebook Live events can be seen on our Youtube channel.
Favorite Summer Recipes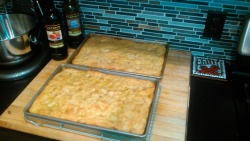 Whether camping, cook-outs, beaches or picnics, here are some favorites to enjoy with your family this summer.
And, from one of our customers, a versatile recipe that can use any of your favorite olive oil and vinegar combinations:
New Products Made-in-Michigan
We know you will enjoy these new Made-in-Michigan products! Find recipes that use these ingredients in our easy to use website recipe search, located at the top of the righthand column.
We're sure these items will add great flavor to your dishes and look forward to hearing about what you create....send pictures too please!
3 Steps for an Extra 'Bottle Punch'
We're excited to be able to share photos of our recipes on our website to inspire your cooking. And, your photos are needed!
1. Make a recipe that does not have a photo of the dish currently shown on our website.
2. Take a photo of what you've made.
3. Send the photo to denise@fustinis.com.
If your photo is used, we will credit you a bottle punch on your Frequent Buyer Club account and give your name recognition with the photo posted on the recipe page.
Quick Links
---
Summer Eats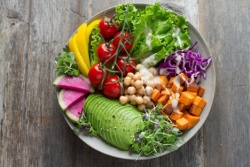 Do you enjoy taking in all the colors of fresh produce or receive a "box" as part of a CSA (Community Supported Agriculture)? HERE are some delicious salad recipes for utilizing all those seasonal favorites.
---
Ann Arbor's Delicious Decade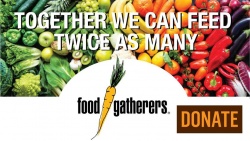 During our Fustini's Ann Arbor Delicious Decade fundraiser, we are donating $1 for every bottle purchased in our Ann Arbor store to Food Gatherers of Washtenaw County, along with matching any donation made through this Facebook link up to $5,000.
Volunteer shifts at the warehouse hope to resume in early July--shifts are modified to allow for social distancing. You can also help by making a purchase in our Ann Arbor location or donate through our Facebook fundraiser HERE.
Here's a new video showing the "3 Reasons Why Food Gatherers Needs Our Help."
---
| | |
| --- | --- |
| | Visit us on facebook to tell us how you use FUSTINI'S or to learn more about how to enhance your food with Fustini's. |