Just In...
We are enjoying the new normal at Fustini's. And we know that today's normal likely won't look the same in a week, certainly not in a month. Curbside service is new for us. So, we're looking at all the different ways to best serve you--taking your order, bottling and packaging them safely for pickup at your convenience. We don't have it totally figured out yet but we will soon. This is going to be a permanent part of the new normal at Fustini's.
We're meeting weekly (via Zoom) to plan for the new normal when we first open the tasting room shops--this includes every little detail of protecting you and our staff while shopping. We are loving this challenge. I believe it is part of the DNA of the leadership team we've been able to assemble--they all love a challenge, work well together, and stay focussed on our customers and our staff. One of my proudest Fustini's accomplishments has been assembling and developing this leadership team.
Enjoy everything in today's eNewsletter! Stay safe and eat well. We will be together soon.
--Jim

Facebook Live--Fridays at 3 pm!
Join us for this week's "Fridays with Fustini's" on Friday, May 15 at 3 pm EST. Charlene and Denise will demonstrate some great Italian progressive dinner recipes, from Antipasto Salad through Fresh Ravioli and finished with Lavender Strawberries. A complete meal to make and enjoy with your family.
Tune in HERE and the team will also be able to answer any questions you submit during the session. FaceBook olive oil and vinegar sets will be available at a 15% discount.
Last week's sets are available through today (May 14). New product sets will be available starting Friday to coordinate with the new recipes presented.
You can see current sets on our website in the "New Items" category.
Nurse Appreciation Week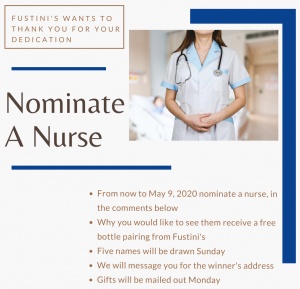 Last week, Nurse Appreciation Week, we asked our Facebook followers to nominate a nurse and tell us why they deserved a free bottle pairing. We had some fantastic responses and wanted to share them with you below. Six nurses were chosen from the 22 nominations, and they are receiving their pairings this week!
Beaumont COVID unit: Through this entire pandemic she has shown up to work with a smile on her face for all her patients. Despite the fears and stress, she was not going to let that get in the way of bringing smiles and comfort to those she cared for. She showed love and comfort for her patients when their families couldn't be by their side.
Spectrum Blodgett Hospital: She has been working tirelessly during this pandemic at the hospital while also attending school to earn her doctorate in nursing (DNP).
Beaumont Hospital: Nurse Practitioner dealing with at risk pulmonary patients in the time of COVID.
DeVos Children's Hospital neonatal intensive care unit: Takes care of the smallest patients and their parents with skill and compassion, especially during these challenging times.
Beaumont Hospital cardiology: Nurse Practitioner who goes above and beyond to help but COVID and non COVID patients.
Munson Medical Center: An awesome nurse on the front lines!
Beaumont Royal Oak: On the front lines taking care of the sickest of the COVID patients.
Featured Fustini's Recipes
Here are additional Italian recipes for you to enjoy!
Chicken Caprese Pasta is a simple and quick dinner. Checkout our how-to video HERE.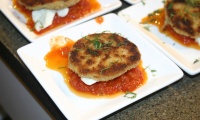 This Eggplant Parmesan is an easy vegetarian option full of flavor, using the favorite Tuscan Herb olive oil.
Get Your Fustini's Fix
Customer Service Hotline: Monday Through Friday
We are here to answer your Fustini's questions Monday through Friday from 9 am-4 pm EST, 231-267-3107.
Shop Your Store--More Hours Added
Curbside pick up hours have been extended! Now you can drive up for your order every Tuesday, Thursday and Saturday from 10–4 pm.
While it is helpful to email your order ahead of the pick up day you wish, our staff is happy to assist you during Shop your Store hours. Just send an email with your phone number to your local store manager below, and she will follow up with a phone call to collect credit card information and finalize your order*. Store phone numbers and emails:
*Please note: Ann Arbor pick up is on the 2nd floor of Kerrytown. Online orders are not available for curbside service.
Free 60ml Sampler Bottle with Order
When you place an order, choose one of our 60ml bottles for free. Just request your sampler bottle in the "Instructions" section of the shopping cart. Be sure to tell us which product you'd like to try.
Tasting Bars Currently Open
Missing your local Fustini's tasting room? Don't worry! Several of our tasting bar partners are open:
Fresh Coast Market - 7270 N Long Lake Rd, Traverse City
Fresh Market - 355 Fisher Rd, Grosse Pointe
Friske's Farm Market - 10743 US 31, Ellsworth
Hansen Foods - 91 W 4th St, Suttons Bay
Willow Market and Meats - 916 S Mitchell, Cadillac
Northwoods Hardware, Home & Garden - 6053 S Glen Lake Rd, Glen Arbor
Boyne Country Provisions - 127 Water St, Boyne City
Central Park Market - 1158 South Shore Dr, Holland
Ann Arbor Distilling Co. Offers Fustini's
Every Saturday from noon to 3pm, Ann Arbor Distilling Co. hosts their Saturday Market Day. During the market, there will be a selection of our balsamic vinegars and olive oils available for curbside pick up. The available Fustini's selection may vary each week. This week's selection of 375ml bottles for pick up Saturday, May 16, are Meyer Lemon and Tuscan Herb olive oil ($17.95 ea.) and Spicy Korean and Traverse City Cherry balsamic vinegar ($16.95 ea.).
Quick Links
---
Give a Smile and Earn Free Bottles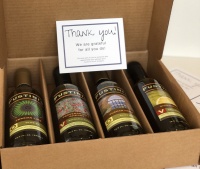 We have passed the 50-day mark of the Stay-at-Home Order in Michigan, and I'm sure you know someone who could use a 'thinking of you' gift of encouragement. We have a complete collection of gift options already packaged for giving and boxes available to create your own gift. You can even add a personalized message.
Do you know an essential worker that deserves a show of appreciation? We've created a 'Thank You' gift package perfect for the essential workers out there keeping us all safe.
Start your shopping online at fustinis.com.
Online product orders count toward your Frequent Buyer Club program purchases. Learn more about the club HERE.
Please note: online orders are not available for curbside service.
---
FustiniQuarantini Continues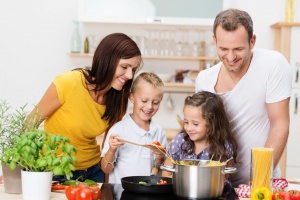 Be sure to checkout the Fustini's YouTube station HERE! Our store managers, School of Cooking guest chefs and food bloggers are creating videos showing some of their favorites recipes. We are always adding more fun and easy videos for you and your family to try.
Post your own Fustini's masterpiece cooking videos or photos on our Facebook page.
---
Kids' Food Basket Needs Your Support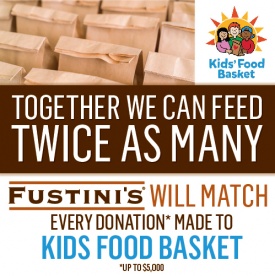 In the first 2 months of the Stay-at-Home Order, KFB provided over 179,000 meals and additional shelf-stable supplies to families in West Michigan. That is more than the population of Traverse City, Petoskey, Holland and Ann Arbor combined. Resources are running thin. If you are able, please donate and Fustini's will match donations, doubling the support, through the end of May. Click HERE to donate.
---
| | |
| --- | --- |
| | Visit us on facebook to tell us how you use FUSTINI'S or to learn more about how to enhance your food with Fustini's. |