Just In...
It's game time. Whether you only watch the NFL's most popular game for the commercials or don't watch at all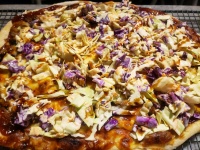 , the Super Bowl can be a great opportunity to spend time with friends and family--at a small gathering or virtually.
While this year we might not have as large of indoor gatherings as in years past, the options for snacks and appetizers to munch on during the game can be just as delicious. This week, we're sharing some of our top recipes to get your game plan set for Super Bowl Sunday.
Enjoy, stay safe and eat well.
--Jim
Score with These Game Day Recipes
If you want something fun for the big game or if you need ideas for a weeknight dinner, these Fustini's recipes are easy and sure to inspire!
Let's Get Together and Cook!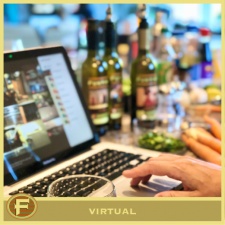 Celebrate the joy of cooking right from your home with a Fustini's Virtual Cooking Class. These interactive classes are led by experienced chefs in our community and invite you to discover new dishes and techniques right from your home. The class fee is per household, so cook along with someone you are comfortable being around or plan to meet your friends virtually via class.
We can also help you cook with your friends virtually at a private virtual cooking class. Email denise@fustinis.com for more information.
February
Feb 5 – Knife Skills with Chef Laura, 6pm
Feb 6 – Power Bowls with Chef John, 12pm
Feb 6 – Winter French Bistro with Chef Laura, 6pm
Feb 13 – Love to Cook with Chef John, 6pm
Feb 18 – Cold Weather Comfort Food with Chef Christie, 5:30pm
Feb 19 – Know your Gnocchi with Chef John, 12pm
Feb 20 – Asian Cuisine with Chef John, 12pm
Feb 25 – Moroccan Marvels with Chef Christie, 5:30pm
Our March classes can be found HERE.
Quick Links
---
Virtual Olive Oil Tasting Events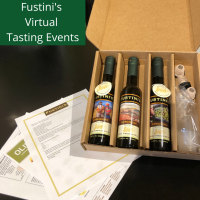 Are you looking to try the most recent SELECT first harvest Northern Hemisphere oils? Sign up for a virtual tasting event to learn how to taste olive oil like a pro. You will receive a set of olive oils that will be used for the tastings. Choose a date that works for your schedule to join a Fustini's team member, via Zoom, to taste and discover the amazing flavor and characteristics these oils have to offer. View the calendar HERE.
These tasting events take place every Monday. To order a SELECT Olive Oil Experience click HERE.
Want to experience olive oil tasting with a group of friends and family? We offer a private experience for a group of 6 or more households. Email denise@fusitnis.com if interested.
---
From the Blog
Find your mid-winter motivation for healthy eating with the help of these blog articles.
• Use Cooking as Your Stress-Relief Activity
• Cooking with Kids: Five Ideas for Family Fun
• What We're Cooking Up At Home: Nine Ideas to Try for Yourself
---
| | |
| --- | --- |
| | Visit us on facebook to tell us how you use FUSTINI'S or to learn more about how to enhance your food with Fustini's. |