Just In...
It was nice to see many of you back in the Up North stores this weekend. It felt a little awkward for all of us at first, but I'm certain we're all going to get the hang of this quickly, and be together often and safely. We are confident in our new in-store operating procedures and have included highlights of what you can expect to experience the next time you visit.
Our theme for this week's eNewsletter is Summer Salads. We think it's the perfect time for salad inspiration with all these greens coming in and, soon, the fruits. We've included recipes from three of our favorite Guest Chefs, and we'll be demonstrating some other fun summer salad recipes on this week's Fridays with Fustini's on Facebook Live.
Stay safe and eat well. We will be together soon.
--Jim

Facebook Live--Fridays at 3 pm!
Join us for this week's "Fridays with Fustini's" on Friday, May 29 at 3 pm EST. Denise will be showing you how to create several easy and fun summer salads, including Orzo Market Salad, Watermelon Caprese and more.
Tune in HERE and she will also be able to answer any questions you submit during the session. FaceBook olive oil and vinegar sets will be available at a 15% discount.
Last week's sets are available through today (May 28). New product sets will be available starting Friday to coordinate with the new recipes presented. You can see current sets on our website in the "New Items" category.
If you missed a Friday, previous Facebook Live events can be seen on our Youtube channel.
Stores Reopenings
When you visit as a guest, here are some of the changes we're making to keep you and Fustini's staff safe and comfortable: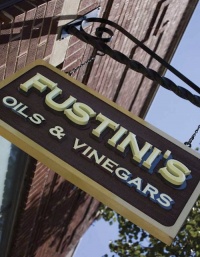 For the safety and comfort of everyone, we're asking all to wear a mask inside the tasting room (we are happy to provide one, if needed).
Hand sanitizer is available throughout the store, as well as a handwashing sink.
You'll notice the store layout's changed a bit. We've placed markings on the floor to guide you through your shopping experience.
We'll oversee the social distancing of 6 feet between discreet customer groups.
We will be sanitizing surfaces regularly, implementing best safety practices and doing everything we can to ensure your safety.
During busy times, we'll be limiting the number of guests in the stores.
Don't forget curbside service. Just call the store to place your order and arrange for pickup.
Things may look a bit different, but we are here to help you in making healthy, delicious food choices!
Please note: Tastings and customer refills will return when we have been given the all clear. Thanks for your patience and understanding.
Get Your Fustini's Fix
Shop Your Store--See Our New Video!
With our curbside pick up option, you can drive up for your order at any of our four stores, updated hours are listed below. Here's a quick video to show you just how easy this works, CURBSIDE. Store hours of availability, phone numbers and emails:
Traverse City (231) 944-1145 • karen@fustinis.com
Mon-Sat 10-5 pm, Sun 10-4 pm
Petoskey (231) 758-3575 • charlene@fustinis.com
Mon-Sat 10-5 pm, Sun 11-4 pm
Holland (616) 392-1111 • lori@fustinis.com
Tues-Fri 10-4 pm: Curbside and in-store hours (limited capacity)
Sat 10-4 pm: Curbside only and find us at the Holland Farmer's Market, Saturdays from 8-2 pm.
Ann Arbor (734) 213-1110 • nanci@fustinis.com*
Tues-Sat 10-3 pm: Contact Free pick up 2nd floor
Tues-Sat 12-3 pm: Appointments
*Please note: Ann Arbor pick up is on the 2nd floor of Kerrytown. Online orders are not available for curbside service.
Free 60ml Sampler Bottle with Order
When you make an in-store purchase or place an online or curbside pick up order, choose one of our 60ml bottles for free. Just request your sampler bottle in the "Instructions" section of the shopping cart. Be sure to tell us which product you'd like to try. We will continue to provide this complimentary sampler with purchases until hosted tastings are able to resume in our stores.
Tasting Bars Currently Open
Missing your local Fustini's tasting room? Don't worry! Several of our tasting bar partners are open:
Fresh Coast Market - 7270 N Long Lake Rd, Traverse City
Fresh Market - 355 Fisher Rd, Grosse Pointe
Friske's Farm Market - 10743 US 31, Ellsworth
Hansen Foods - 91 W 4th St, Suttons Bay
Willow Market and Meats - 916 S Mitchell, Cadillac
Northwoods Hardware, Home & Garden - 6053 S Glen Lake Rd, Glen Arbor
Boyne Country Provisions - 127 Water St, Boyne City
Central Park Market - 1158 South Shore Dr, Holland
Ann Arbor Distilling Co. Offers Fustini's
Every Saturday from noon to 3pm, Ann Arbor Distilling Co. hosts their Saturday Market Day. During the market, there will be a selection of our balsamic vinegars and olive oils available for curbside pick up. The available Fustini's selection may vary each week.
Quick Links
---
Featured Fustini's Recipes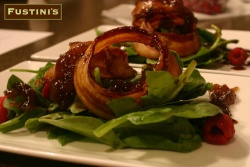 Here are some unique summer salad favorites from our guest chefs:
Watch Chef John make his signature Spinach Salad with an appealing garnish HERE. You can create your own Warm Spinach Salad with this recipe too (pictured).
Chef Mike created a fresh twist on a summer favorite using our Michigan Apple balsamic vinegar in his Watermelon Salad.
Chef Jason utilizes the tartness of our Michigan Apple balsamic vinegar in this delicious Roasted Beet Salad with a unique Pecan Vinaigrette.
---
Kids' Food Basket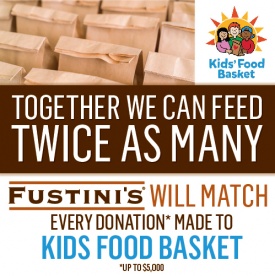 We are in the final days of our Kids' Food Basket (KFB) fundraiser. KFB provides meals and non-perishable items to children and families in the Holland area. There are only four days left to get your donation matched. Please click HERE to donate.
---
| | |
| --- | --- |
| | Visit us on facebook to tell us how you use FUSTINI'S or to learn more about how to enhance your food with Fustini's. |