A Message From the Owner
What a world we are all living in! Now more than ever, we need each other for support and fellowship.
I don't know about you, but all of a sudden I'm finding myself locked in with roommates! Haven't had roommates in a LONG time, so we're making this work through the kitchen. The Fustini's Team came up with the handle "Fustini Quarantini" and have been having a lot of fun doing cooking videos (see below). I hope you have as much fun with this as we are. Please share your #fustiniquarantini inspirations, recipes and videos on our Facebook page.
Since our tasting rooms are closed and we're temporarily unable to host you for oil and vinegar tastings, we will include a complimentary 60ml sample bottle of your choice in your next online order. Pick something that looks interesting, an item you've always wanted to try, and let us know in the "Instructions" field on the checkout page. We'll include the sample bottle with your order. Also, remember that your online orders qualify for Frequent Buyer credit and now you can Redeem Free Bottles Earned online as well. See how this works HERE.
Finally, the needs in our communities are escalating rapidly. One particular group we're focusing on is children. Kids' Food Basket of Holland, MI is providing meals to over 1,100 kids but because of school closings the challenges this non-profit face have increased dramatically. So, Fustini's will match every dollar donated on our Facebook page. Please join us in supporting Kids' Food Basket now.
Thank you for your support and be safe!
--Jim
#FustiniQuarantini Fun for the Family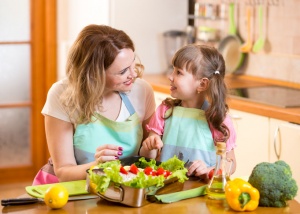 Given these troubling, stuck-at-home times, the Fustini's Team is having fun coming up with quick, easy recipes for you and your family to follow along and create. We are adding more all of the time, but here are a few to get you started--delicious winners for everyone in your household! Why don't you join us? Just post your cooking videos on our Facebook page.
A Kids' Favorite--Traditional Baked Macaroni and Cheese
Penne Rigate/Cheddar Supreme Sauce/Saltine Crumb
Cheddar Supreme Sauce Ingredients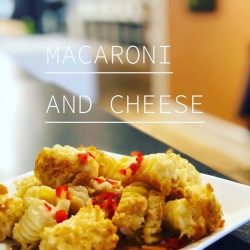 Cheddar Supreme Sauce Preparation
Heat olive oil and butter in a large pot over moderate heat. Once butter is melted, add shallot and cook for one minute, stirring. Whisk in flour and cook for 3 minutes, whisking. Add chicken stock and whisk. Bring to simmer then turn heat to low and whisk in milk. Add mustard, Worcestershire sauce and bring to simmer over low heat. Once simmering, remove from heat and whisk in cheese. Continue whisking until all cheese has melted and sauce becomes shiny. Season with salt and pepper.
Penne Rigate Ingredients
1 lb dried penne rigate pasta
Water
Salt
Penne Rigate Preparation
Preheat oven to 375 degrees. Place enough water to fill a large stock pot 3/4 full over high heat. Once boiling add a large handful of salt, stirring to melt. Once the water is boiling again, stir in pasta and cook for 8 to 10 minutes or until just al dente. Drain well and add pasta to cheese sauce, stir well and pour into the baking dish.
Saltine Crumb Ingredients
Saltine Crumb Preparation
Place all into a large bowl and stir to combine. Spread mixture over top of pasta and cheese and bake in a hot oven until browned and bubbly, 35 to 60 minutes. Serve hot.
Fustini's Pizza
Pizza Dough Ingredients
Pizza Dough Preparation
Place water, yeast and sugar in the bowl of a stand mixer and let the yeast bloom. Once foamy, add the Garlic olive oil, salt and 2 1/4 cups flour, place in the stand mixer fitted with the dough hook and start on low speed to combine. If the dough seems too wet, add the extra quarter cup of flour one tablespoon at a time while the mixer is running. Turn speed to medium low and knead dough in mixer until elastic. Remove dough from the bowl and finish kneading by hand. Place dough into oiled bowl, cover with plastic wrap and let stand until doubled in volume, 2 to 2 1/2 hours. Punch down dough, knead to remove air, and cut into 8 equal size pieces. Knead each piece to make it round and place on your work surface a few inches apart. Cover the dough balls with a wet towel and let rise again until puffy, 30 to 45 minutes. The dough is now ready to be rolled out.
Fresh Sauce Ingredients
3 Roma tomatoes, roughly chopped
2 cloves garlic, roughly chopped
2 Tbsp fresh oregano
Salt and pepper
Fresh Sauce Preparation
Pulse all ingredients in food processor until blended but not liquefied. Store in tightly sealed container in refrigerator.
Margherita Topping
1 round of pizza dough, from above
2 Tbsp Fustini's Basil olive oil
4-5 thin slices of Roma tomato
2-3 Tbsp fresh mozzarella, small dice
1 Tbsp basil, chiffonade
Margherita Topping Preparation
Preheat oven to 400 degrees. Place pizza stone or stainless sheet pan into oven to preheat. Roll out dough to a thin sheet. Sprinkle fine cornmeal on pizza peel and place rolled out dough onto peel. Spread Basil olive oil on dough, place tomato slices and mozzarella on dough and slide into prepared oven. Bake until bubbly and the crust is browned on the bottom, 8-10 minutes (turning pizza to ensure even browning). Remove pizza from oven and sprinkle with the basil chiffonade. Serve immediately.
Cream of Tomato Soup with Grilled Cheese
Tomato Soup Ingredients
1 Tbsp butter
1 Cup onion, diced
3 Cups tomatoes, diced
1 Tbsp tomato paste
3 Tbsp flour
2 Cups chicken stock
Salt and white pepper
1 Cup heavy cream
Tomato Soup Preparation
Heat olive oil and butter in a medium pot over moderate heat and when butter is melted add onion. Cook onion, stirring often, until soft, 8 minutes. Add tomatoes and tomato paste and cook for several more minutes. Add flour and stir well to coat. Cook a few more minutes, stirring, and add stock. Bring to simmer and cook until slightly thickened, the tomatoes are all broken down, and the soup is very hot. Blend in batches and press through a fine mesh sieve. Return to pot and season with salt and pepper and add heavy cream. Bring to simmer again and serve hot with grilled cheese.
Grilled Cheese Ingredients
1 Tbsp butter
4 slices white bread
4 slices smoked gouda
4 slices fontina
Grilled Cheese Preparation
Place Tuscan Herb olive oil and butter in a large skillet or flat top. When butter is melted, place bread slices into hot oil. Place a slice of each cheese on each bread slice and let cook until the bottom of the bread is golden brown and the cheese is melted. Combine the bread slices and remove from the griddle. Cut into triangles and serve. Serves 2-4
Quick Links
---
Chicken Saltimbocca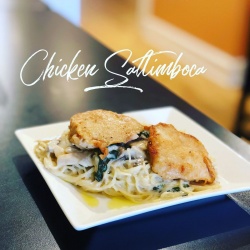 Ingredients
• 8 chicken scallopini, 2 oz each
• Salt and pepper
• 2 Tbsp flour
• 3 Tbsp butter
• 3 Tbsp Fustini's Robust Single Varietal Extra Virgin Olive Oil
• 2 shallots, minced
• 1/2 Cup sliced mushrooms
• 4-6 cloves garlic, roasted, halved and squeezed then mixed with a little olive oil
• 2 oz white wine
• 1 Cup fresh spinach
• 1/4 Cup heavy cream
• 1/4 Cup freshly grated parmesan cheese
• 8 oz angel hair pasta, cooked
Preparation
Spread chicken out on the work surface. Dust with flour and season with salt and pepper. Heat butter and olive oil in a large skillet over moderate heat. Once butter has melted and foam has subsided, add chicken and fry on both sides until browned and just cooked, 2-3 minutes per side. Remove chicken from the pan and add shallots and mushrooms. Cook until mushrooms are slightly browned and shallots are soft, 3 minutes. Add garlic and cook for another minute. Add wine and scrape the bottom of the pan to deglaze. Cook wine until reduced down to a few tablespoons and add spinach. Once spinach has wilted, add heavy cream and bring to simmer. Simmer until slightly thickened, 3 minutes. Add cheese and stir/melt. Add any accumulated chicken juices back to the pan. Add pasta to pan and stir to coat. To serve, place some pasta on a service plate, put chicken over top and garnish with more cheese.
---
Olive Oil and Balsamic Vinegar Health Benefits
Extra Virgin Olive Oil
• Many studies show that EVOO is beneficial in supercharging the immune system. Thanks to its biological makeup, olive oil has antibacterial, antiviral and antimicrobial properties.
• One of the main contributors to olive oil's wholesome and vigorous immuno-superstardom are polyphenols. Polyphenols are a natural compound most commonly found in plants. When we ingest foods rich in polyphenols (like EVOO), they're quickly put to work acting as our body's bodyguards, battling harmful oxidants. Oxidants are 'free-radicals' that cruise around our body damaging cell tissue. Oxidants can come from any number of sources; pollutants, overly processed foods, and industrial chemicals. If our bodies are busy fighting an onslaught of these oxidants, that leaves us open to an outside infection from bacteria or viruses. The more oxidants present in your system the more likely you are to get sick or be susceptible to illnesses, even long term health issues.
Balsamic Vinegar
• Balsamic vinegar is loaded with vitamins and minerals, topping the supplement chart in sources of potassium, calcium, phosphorous and Vitamin C.
• Potassium is a necessary mineral for muscle function. Adding balsamic, regularly, into your diet will reduce muscle cramping and fatigue.
• Calcium helps the body maintain fluid levels, aids in muscle development and is essential in bone development and repair.
• Phosphorus is responsible for aiding in many bodily functions: blood clotting, heart function, kidney function, and nerve function.
• Vitamin C is the 'repairman' of the vitamin world, helping our bodies heal and boosting our immune systems during bouts of illness.
• Balsamic vinegar is also high in antioxidants, substances that serve as our body's policing system, reducing harmful free radicals.
• The Trebbiano and Lambrusco grape varietals that make up balsamic vinegar contain a bioflavonoid called quercetin. A powerful antioxidant that, along with vitamin C, are super immune boosters and help fight against other infectious diseases and inflammation.
• Balsamic contains a fantastic amount of polyphenols. The polyphenols that are most commonly found in balsamic aid in the body's digestion of food. What these micros do is stimulate enzymes, allowing for a much smoother breakdown process and nutrient absorption in our gut.
A balanced healthy diet, full of polyphenol foods, helps our immune system. The FDA recommends daily consumption of 2 tablespoons of Extra Virgin Olive Oil for overall health and well-being.
When you partner the immune boosting benefits of extra virgin olive oil and the important health benefits of balsamic vinegar with other antioxidant and vitamin-rich foods, you're strengthening your immune system support.
---
| | |
| --- | --- |
| | Visit us on facebook to tell us how you use FUSTINI'S or to learn more about how to enhance your food with Fustini's. |