Fustini's Inner Circle: The Perfect Summertime Pizza
Just In...

This week's eNewsletter is in tribute to Chef Andy Stewart who joined us in 2013 to create Fustini's School of Cooking as our corporate chef. He designed the kitchens in each of the stores and developed the cooking class curriculum that promotes adventurous uses for our oils and vinegars in an enjoyable atmosphere--he and his wife Nancy coined it "Dinner and a Show." As most of you have taken a class from Chef Andy, his classes were technically interesting as well as entertaining--Chef Andy could spin a pretty good yarn about his years in the business...from developing his love of cooking from his mother Barbara to his early morning escapades as a fish buyer in New York City.

Andy passed away suddenly and peacefully on April 7th. His Fustini's family pays tribute in this eNewsletter and in tomorrow's FaceBook Live to Andy, the father of Ted and Samantha, with what they said was one of his Father's Day favorites--making PIZZA! I hope that Andy's pizza recipes will inspire you to take your homemade pizzas to the next culinary level and, for those of you who had the privilege of knowing Chef Andy from a class, this should bring back good memories. As founder of Fustini's, brother to his wife Nancy and uncle to Ted and Samantha, I can say Andy will never be forgotten.

Stay safe and eat well. We will be together soon.

--Jim

Quick Links

| | |
| --- | --- |
| | Visit us on facebook to tell us how you use FUSTINI'S or to learn more about how to enhance your food with Fustini's. |

Facebook Live--Fridays at 3 pm!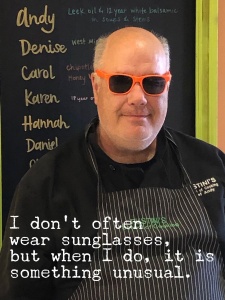 Join us for this week's "Fridays with Fustini's," Chef Andy's Favorite Pizzas, on Friday, June 19 at 3 pm EST.
Tune in HERE and we will also be able to answer any questions you submit during the session. FaceBook olive oil and vinegar sets will be available at a 15% discount.
Last week's sets are available through today (June 18). New product sets will be available starting Friday to coordinate with the new recipes presented. You can see current sets on our website in the "New Items" category.
If you missed a Friday, previous Facebook Live events can be seen on our Youtube channel.


Remembering Chef Andy This Father's Day
The Holland School of Cooking enjoyed a game of "BINGO" using "Andyisms" he would often share in classes. Seldom would Chef Andy get through a class without at least half of these Andyisms deployed.

Chef Andy and his family, pictured on left.
Click HERE to read a blog Q&A article that was done with Chef Andy earlier this year. We also created a tribute video that can be viewed HERE.

Featured Pizza Recipes
Here are a few of Chef Andy's signature pizzas:
Helpful Tips:
Make a full batch of Chef Andy's pizza dough recipe and freeze what you don't use. Thaw before using, you may need to add some additional cornmeal or flour to compensate for any extra moisture.
Most pizza recipes can be adapted to be cooked on a grill instead of the oven on hot summer days.
For authentic Italian pizza, Chef Sofia Occhialini explains why you need to stretch and fold your pizza dough HERE.

Ann Arbor's Delicious Decade
During our Fustini's Ann Arbor Delicious Decade fundraiser, we are donating $1 for every bottle purchased in our Ann Arbor store to Food Gatherers of Washtenaw County, along with matching any donation made through this Facebook link up to $5,000.
Although the stay-at-home order has lifted and people are slowly returning to work, we anticipate increased food insecurity will continue for at least 12-18 months, if not longer. If you'd like to help, please make a purchase in our Ann Arbor location or donate through our Facebook fundraiser HERE.

3 Simple Ways to Buy Fustini's
Until we are able to offer tastings, we encourage you to choose one of our 60ml bottles for free. Just request your sampler bottle with your order or add to "instructions" with an online purchase.
1. Online Ordering
• Become a member of our Frequent Buyer Program. Benefits are listed here.
• For Frequent Buyer Members ordering online - this short video will explain the steps to link to your current account.
• Online orders are not available for curbside service
2. Curbside Ordering
• Call or email your store for a curbside order. This short video will show you how it works.
• Curbside is available during store hours.
• Give your information for being a part of our Frequent Buyer Program. Benefits are listed here.
3. In-Store Shopping
• Things may look a bit different, but we are here to help you in making healthy, delicious food choices! Our staff is comfortable with the new procedures to keep everyone safe. You'll see them posted when you walk in.
• Give your information for being a part of our Frequent Buyer Program. Benefits are listed here.
• Know we have a smile for you under our masks.
Pizza Pizza!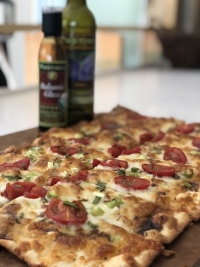 Summertime pizzas can become personalized favorites using the fresh produce available this time of year. Try some of these unique recipes and have fun creating!
Happenings
Given the current situation, School of Cooking classes are currently canceled at all four store locations. Please see our website at fustinis.com for updates.
Here are just a few events planned in and around our stores in Traverse City, Petoskey, Holland and Ann Arbor:
ANN ARBOR
Ann Arbor's Farmers Market is open on Wednesdays and Saturdays from 7am to noon.
HOLLAND
Holland's Farmers Market is open each Wednesday and Saturday from 8 to 2 pm. Find us there on Saturdays!
PETOSKEY
Visit the Harbor Springs' Farmers Market Saturdays from 9 to 1 pm.
TRAVERSE CITY
The Sara Hardy Farmers Market is offering online ordering for Saturday pick ups. Place orders by the prior Thursday.
Learn more about these and other upcoming events on our events calendar.