Just In..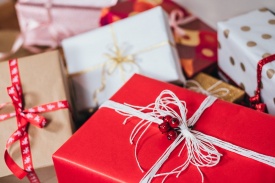 "What do I get them for the holidays?" If you've ever asked that question, you're certainly not alone.
This holiday season, we've got you covered. This week, we're telling you all about this year's holiday catalog. And boy, do we have some fun gift ideas for you! From bottle sets to pantry pairings to cooking classes and even cocktail kits, we've got something for everyone.
I invite you to check out our holiday catalog to make your gift shopping easy this year. And you may as well pick something up for yourself, too. Can't decide? Fustini's has gift cards and e-certificates available to let your foodie pick out their favorites.
Let's get together and cook!
--Jim
Everyone Loves a "Fustini's Santa"
Discover our different selections of gift sets for your holiday gift giving. Each set comes in a gift box with an idea card as well as QR codes on each bottle to grab more inspiration with a click.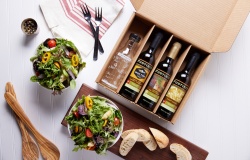 Dressing Jar Kit
---
Taste of Michigan Gift Set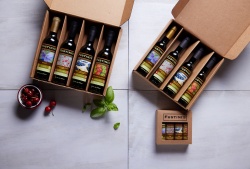 ---
---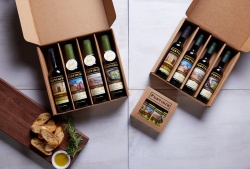 SELECT/18 Gift Set
---
Herb Pantry Pairing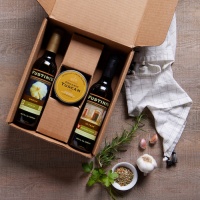 ---
---
Spicy Pantry Pairing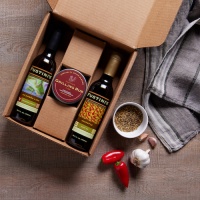 ---
Let's Get Together and Cook!
Celebrate the joy of cooking right from your home with a Fustini's Virtual Cooking Class. These interactive classes are led by experienced chefs in our community and invite you to discover new dishes and techniques right from your home. The class fee is per household location, so cook along with someone you are comfortable being around or plan to meet your friends virtually via class.
We can also help you cook with your friends virtually at a private virtual cooking class. Email denise@fustinis.com for more information.
VIRTUAL CLASSES:
DEC 16 – HOLIDAY BRUNCH with Chef Christie, 5:30pm
DEC 17 – HOLIDAY FAVORITES with Chef Laura, 6pm
DEC 18 – HOLIDAY FEAST with Chef Laura, 6pm
DEC 30 – CRANBERRY CHRISTMAS with Chef Christie, 5:30pm
Be sure to reserve your group for holiday fun! The in-person class schedule for each location is based on chef availability.
A gift certificate is a great way to give a Virtual cooking class that they can use to sign up for a class that works for them.
Quick Links
---
Recipe Spotlight: Eggnog Pie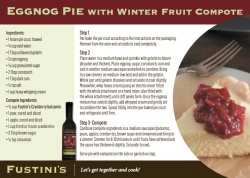 Checkout this month's highlighted recipe HERE.
---
Virtual Olive Oil Tasting--Southern Hemisphere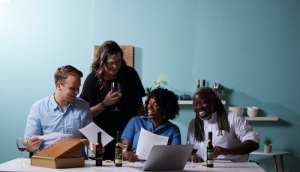 AVAILABLE NOW! Tastings occur most Tuesdays at 5:30 pm EDT. Taste and discover the amazing flavor and characteristics these oils have to offer.
Send a tasting kit this holiday! A box they can open and an experience they can look forward to when they sign up for a tasting time that fits their schedule. For questions, contact your local store or email denise@fustinis.com.
Curious about what you can expect in these experiences? Click here to check out six things to know about these innovative virtual tastings.
---
| | |
| --- | --- |
| | Visit us on facebook to tell us how you use FUSTINI'S or to learn more about how to enhance your food with Fustini's. |