News from Fustini's
Hi everyone! I know that you've told us you want our eNewsletter once a month but we are in different times now. We miss you and I can tell by some of the messages we're getting that you might be missing Fustini's a bit also. So, during this period you're going to hear from us more often and we hope to hear from you. We are also a small business in your community that needs your continued support to get through this. Here's what we've got for you:
We are having fun with our Fustini Quarantini cooking demos and recipe videos. I hope you are also.
Do you miss Chef Andy? Announcing the first FaceBook Live Cooking Demo with Chef Andy, next Wednesday, April 8 at 11 am EST.
Shop Your Store Day–-looking for ideas on how to use or what to buy? Call your local Fustini's store and shop over the phone with our in-store Store Manager. Use FaceTime if you like. Call and shop Tuesdays from 1-3 pm EST.
Online shopping reminders: use the email you've received this eNews on to order online and get Frequent Buyer Program purchase credit. You can now redeem free bottles earned online. And remember to get your complimentary 60ml oil or vinegar sample by including that in the INSTRUCTIONS line at checkout.
We are launching a Customer Service Hotline to answer any questions you have about Fustini's, our product line and assistance in ordering. Available M-F 9 am-4 pm EST at 231-267-3107.
I hope you'll find these things helpful and look for more from us in the coming weeks. If you'd like something that you're not seeing from us, let me know and email me at jim@fustinis.com.
Until then, stay safe and enjoy home cooking while we're homebound.
--Jim
#FustiniQuarantini: HomeBound Home Cooking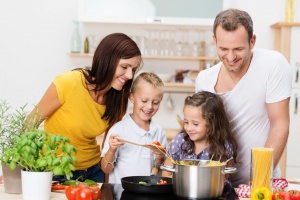 The Fustini's Team continues to enjoy creating quick, easy recipes for you and your family to create together. Here are a few more we thought you'd enjoy!
Did you create your own Fustini's masterpiece? Post your cooking videos on our Facebook page!
FaceBook Live with Chef Andy
Beginning next Wednesday (April 8), our very own Chef Andy will be on FaceBook Live! He will be providing a free, 40 minute cooking class experience to you.
This first in a series of FaceBook Live cooking presentations will feature Italian comfort foods. You won't want to miss it!
Please tune into our FaceBook page on April 8 at 11 am EST.
Customer Service Hotline: Monday Through Friday
To answer your Fustini's questions, we are launching a Customer Service Hotline. A representative will be available to assist you with our product line and placing shipping orders. The service will be open Monday through Friday from 9 am-4 pm EST.
Just call 231-267-3107. We'd be happy to help!
Quick Links
---
Cocktails with Neighbors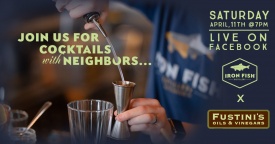 Join Fustini's and Iron Fish Distillery on Saturday, April 11 at 7 pm EST for cocktail hour. During this FaceBook Live party, Iron Fish will be creating a "Blue Bear" cocktail using Fustini's Iron Fish honey vinegar. Learn more HERE.
---
Shop Your Store Day
Having trouble placing your online order? Want to place an order for pick up? Or, maybe you'd just like to hear your Fustini's store manager's voice? Every Tuesday from 1-3 pm EST, the store manager of your local Fustini's will be available to host you over the phone with audio or FaceTime. They'll answer any questions, help to place online shipping orders and take pick up orders*. I know they are anxious to hear from you!
For your convenience, here are the store phone numbers:
Ann Arbor (734) 213-1110
Holland (616) 392-1111
Petoskey (231) 758-3575
Traverse City (231) 944-1145
*Please note that our Ann Arbor store is unable to participate in pick up service.
---
| | |
| --- | --- |
| | Visit us on facebook to tell us how you use FUSTINI'S or to learn more about how to enhance your food with Fustini's. |