Cooking for Connection
So today is day 25 of Michigan's Stay in Place order. I'd love to hear how you're coping with these new circumstances. In my world, the kitchen and dining room table seem to be in the middle of everything. The planning moment usually happens around the lunch hour. The discussion goes something like "What do we want to have?", "What's in the refrigerator?", "What might be going bad soon?", and then "Can we avoid going to the grocery store?" Assignments are made and the rest of the day swirls around preparing for the evening meal. The sun starts setting, a bottle of wine is opened and the kitchen kicks into action. And of course in my kitchen the questions are always "what olive oil or vinegar are you going to use with......" The creativity is contagious and quickly great aromas, smiles and laughs emerge.
I hope that this week's eNewsletter helps in some way to inspire you with food ideas. That's our most important goal right now.
Your support is greatly appreciated.
--Jim

Join Us on Facebook Live Today at 3pm!
Today (Friday April 17) at 3 pm join us for Facebook Live with Fustini's. Jim will moderate with Nanci and Denise on how to make their favorite salad and vinaigrette.
Tune in HERE and the team will be able to answer any questions you submit during the session. FaceBook olive oil and vinegar sets will be available at a 15% discount.
Nanci's Picks, Denise's Picks and a Facebook 4-pack with products used in both recipes will be available in our "New Items" tab HERE through April 17-23.
• 4-pk 375ml: Meyer Lemon, W MI Blueberry, 18 Year Traditional and Garlic
• Denise's Pick: 375ml Meyer Lemon and W MI Blueberry
• Nanci's Pick: 375ml 18 Year Traditional and Garlic
Next week another FaceBook Live will be held with additional product packages that coordinate with each new recipe.
#FustiniQuarantini: Recipe Videos to Follow Along
The Fustini's Team is really enjoying creating fun, easy cooking videos for you and your family to follow along with. Check out our YouTube station HERE for a complete list and check back often for new recipes. They're being added daily.
Did you create your own Fustini's masterpiece? Post your cooking videos or photos on our Facebook page!
Need Your Fustini's Fix Safely While We are All on Stay-at-Home
Customer Service Hotline: Monday Through Friday
We are here too answer your Fustini's questions Monday through Friday from 9 am-4 pm EST, 231-267-3107.
Shop Your Store Day
Every Tuesday from 1-3 pm EST, the store manager of your local Fustini's will be available to host you over the phone with audio or FaceTime for shipping or pick up orders. For your convenience, here are the store phone numbers:
Ann Arbor (734) 213-1110
Holland (616) 392-1111
Petoskey (231) 758-3575
Traverse City (231) 944-1145
Free 60ml Sample Bottle
When you place your order, be sure to request the 60ml sample bottle of your choice of our oils or vinegars. It's a great opportunity to try something new!
Frequent Buyer Club
And, don't forget to use your email and receive Frequent Buyer points. You'll receive a free bottle once 11 are purchased. Checkout our video with more information HERE.
Tasting Bars Currently Open
Missing your local Fustini's tasting room, don't worry! Several of our tasting bar partners are open:
Fresh Coast Market - 7270 N Long Lake Rd, Traverse City
Fresh Market - 355 Fisher Rd, Grosse Point
Friske's Farm Market - 10743 US 31, Ellsworth
Glenwood Market - 417 River St, Manistee
Hansen Foods - 91 W 4th St, Suttons Bay
Willow Market and Meats - 916 S. Mitchell, Cadillac
Northwoods Hardware, Home & Garden - 6053 S Glen Lake Rd, Glen Arbor
Boyne Country Provisions - 127 Water St, Boyne City
Central Park Market - 1158 South Shore Dr, Holland
Quick Links
---
Send a Surprise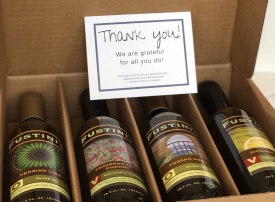 We've created this 4-pack thank you gift set in appreciation of all the frontline staff. Send this special package to anyone in the medical field, a first responder, or necessary retail support, letting them know they are being thought of.
A"thank you" card will be included in each package, along with:
• Persian Lime olive oil
• Traverse City Cherry balsamic vinegar
• Tuscan Herb olive oil
• Sicilian Lemon balsamic vinegar
• Gift box
Order your thank you gift sets HERE.
---
Kids' Food Basket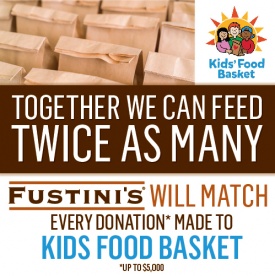 We are just half way through our fundraiser and are over 50% to the $5,000 goal for Kids' Food Basket!
The needs in our communities continue to escalate. One particular group we're focusing on is children. Kids' Food Basket of Holland, MI is providing meals to over 1,100 kids but because of school closings the challenges this non-profit face have increased dramatically. So, Fustini's will match every dollar donated on our Facebook page. Please join us in supporting Kids' Food Basket now by clicking HERE.
---
| | |
| --- | --- |
| | Visit us on facebook to tell us how you use FUSTINI'S or to learn more about how to enhance your food with Fustini's. |