Just In..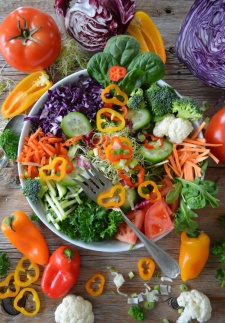 Happy New Year! I hope you and your family and friends had a wonderful holiday season and a great start to 2022!
For many, a new year means new opportunities to change up some habits—including an increased dedication for eating healthily. You may even try a diet trend like keto in this endeavor. Sure, you can buy those frozen meals that claim their health benefits, but why not enjoy time cooking in the kitchen, too!
This week, we're sharing some delicious and healthy recipes perfect for a new start this year. Many recipes are keto/low-carb friendly, vegetarian, dairy-free and Mediterranean. Whether you've created a new year's resolution to eat healthier or want to discover new recipes to enjoy flavors and wholesome ingredients, these recipes can inspire a delicious start. Discover more techniques and tricks in the kitchen by joining a virtual cooking class! Check out our events calendar to learn more.
Let's get together and cook!
--Jim
Keto, Vegetarian, Mediterranean or Dairy-Free
Eating healthy includes many unique opportunities. This week we have included different types of menus, all of which include Fustini's for healthy and flavorful foods.
KETO
Keto is a high-fat, adequate-protein, low-carbohydrate diet that forces the body to burn fats rather than carbohydrates.
Almond flour is a great white flour substitute to make even more dishes Keto friendly or gluten free. Substitute ratio 1:1. You may need to add additional egg to help bind the flour for baking. Turnips make a great addition to any keto-friendly dish, especially for potatoes or carrots!
Check out more of our keto-friendly recipes HERE.
---
Many of our vegetable dishes may contain chicken broth. An easy substitution is to use vegetable broth.
See more of our vegetarian recipes HERE.
---
MEDITERRANEAN
The Mediterranean lifestyle is characterized especially by a high consumption of vegetables and olive oil and moderate consumption of protein.
Fustini's olive oils that work great for Mediterranean cuisine include Gremolata, Garlic and Meyer Lemon.

Enjoy more Mediterranean-inspired recipes HERE.
---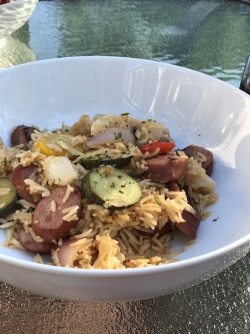 DAIRY-FREE
Dairy free recipes do not contain any milk or milk products from cows, sheep or goats. Use almond milk at a 1:1 ratio for 2% or whole milk to keep your dishes creamy and dairy-free. For additional creaminess, try including mashed avocado when able.
Did you know that Fustini's Butter olive oil is dairy-free!?
Try these dairy-free Fustini's recipes HERE.
Let's Get Together and Cook!
Celebrate the joy of cooking right from your home with a Fustini's Virtual Cooking Class. These interactive classes are led by experienced chefs in our community and invite you to discover new dishes and techniques right from your home. The class fee is per household location, so cook along with someone you are comfortable being around or plan to meet your friends virtually via class.
Virtual cooking classes are a great experience gift to give friends and family. We can also help you cook together virtually at a private virtual cooking class. Email denise@fustinis.com for more information.
VIRTUAL CLASSES:
JAN 13 – FLAVORS OF TUSCANY with Chef Christie at 5:30pm
JAN 15 – SOUP'S UP with Chef Laura at 6pm
JAN 20 - BIG GAME NIGHT with Chef Christie at 5:30pm
JAN 21 – INDIAN CUISINE with Chef Laura at 6pm
JAN 22 – COQ AU VIN at HOME with Chef Laura at 6pm
JAN 27 - FLAVORS OF TUSCANY with Chef Christie at 5:30pm
JAN 28 – WINTER IN FRANCE with Chef Laura at 6pm
JAN 29 – BAKING FOR BEGINNERS with Chef Laura at 6pm
The Holland location is offering in-person Demonstration and Interactive classes. Click HERE for the schedule. In-person class schedules for each location are based on chef availability.
Quick Links
---
Starting 2022 with over 2000 Recipes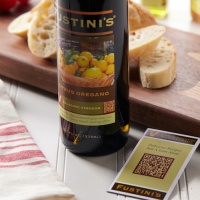 Meal planning becomes easy searching through the Fustini's website of recipes. Using the QR code on your bottle, you have access to the over 2000 recipes using Fustini's products.
---
From the Blog
What is the keto diet? Check out this article to learn about the fundamentals and discover even more delicious recipes.
---
Virtual Olive Oil Tasting--Southern Hemisphere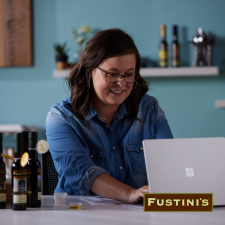 AVAILABLE NOW! Tastings occur most Tuesdays at 5:30 pm EDT. Taste and discover the amazing flavor and characteristics these oils have to offer. Purchase a tasting kit and call a store to sign up for a date that fits your schedule. For questions, contact your local store or email denise@fustinis.com.
Curious about what you can expect in these experiences? Click here to check out six things to know about these innovative virtual tastings.
---
| | |
| --- | --- |
| | Visit us on facebook to tell us how you use FUSTINI'S or to learn more about how to enhance your food with Fustini's. |