Ratatouille
Ingredients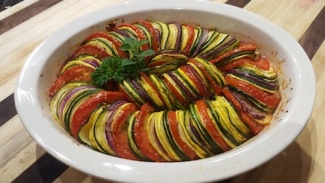 1 zucchini
1 yellow squash
2 roma tomatoes
1 small red onion
Sauce Ingredients
Preparation
When you go shopping for the vegetables, look for veggies that have a similar diameter, so that when you will slice them, they will stack together evenly. For the best fuss-free result, stir the sauce together and spread it into the bottom of the pan before layering the veggies on top. You can simply cube all the veggies, but for a pretty presentation, I like to slice them up separately.
Mix together the tomato paste, vinegar, sugar, oregano, thyme and salt and 1 Tbsp of the olive oil. Coat the bottom of the round or oval baking dish with cooking spray or a little oil and put in a layer of the tomato sauce.
Each of the veggies should be sliced thinly -- a mandoline works really well. In the baking dish, on top of the layer of the tomato sauce carefully place the vegetables. To make things easier, stack the veggie slices in your hand then layer them into the pan. Continue layering until the pan is full, then season with the Fustini's Parmesan blend and the 2-3 Tbsp of Fustini's Tuscan olive oil.
Bake for 30 minutes or until veggies are tender and the sauce is gently bubbling along the sides. Remove from oven and allow to cool for 5 minutes, then serve. Can be stored in an airtight container in the fridge for up to 2 days, or frozen for up to 1 month. Recipe can be easily doubled for a larger pan.
Submitted by Fustini's Guest Chef Christie Struck
Shrimp Guacamole Bites
Shrimp Ingredients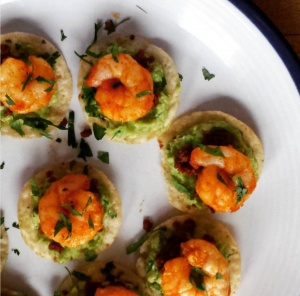 1 lb large raw shrimp, peel and deveined
1/2 tsp smoked paprika
1/2 tsp ground cumin
1/2 tsp sea salt
1/4 tsp chipotle chili powder
Chorizo sausage
Salt to season

Guacamole Ingredients
Preparation
1. Cook sausage until done, remove to a plate with a paper towel and drain excess grease.
2. To prepare the Guacamole: Add avocado, cilantro, lime juice, vinegar, red pepper flakes and salt to a food processor or blender. Lightly pulse until the mixture is smooth. Set aside.
3. To prepare the shrimp: In a small bowl, add shrimp, smoked paprika, ground cumin, sea salt and chipotle chili powder. Toss the shrimp to coat in the seasoning blend.
4. Heat a large skillet to medium high heat. Add olive oil to the pan and then place the shrimp. Cook shrimp for 2-3 minutes per side.
5. Assemble the bites. Top each chip with a spoonful of sausage, a dollop of guacamole, one shrimp and garnish with fresh cilantro. Serve
Submitted by Fustini's Guest Chef Cathy Magee
Quick Links
---
Traverse City Restaurant Week
Traverse City Restaurant Week is February 23–29. We will be participating on Monday, Tuesday, Wednesday, Thursday and Saturday evenings from 5:30–7 pm with the following chefs and menus:
Monday and Tuesday, February 24 & 25
Chef Fred Laughlin
• Shrimp cakes with mango salsa
• Stuffed crepes with marinara sauce
• Panna Cotta with warm citrus salad
Wednesday and Saturday, February 26 & 28
Chefs Lisa and Ryan from Rad.ish (Vegan Menu)
• Lemon and lavendar shrub mocktail
• Warm "bacon" salad
• Potato and cheddar pierogis with grilled onions and mushrooms
• Baked Alaska german chocolate doughnuts
Thursday, February 27
Chef Laura Cavender
• Cucumber Mint Grapefruit shrub mocktail
• Goat cheese and onion galette with butternut squash
• Balsamic steak with chimichurri
• Blood orange pots de creme
The cost is $35/person. Learn more HERE.
---
Enjoy Fustini's at Local Restaurants
Click HERE for a list of our Ann Arbor, Holland, Petoskey and Traverse City area marketing partners, and enjoy Fustini's the next time you dine out!
---
| | |
| --- | --- |
| | Visit us on facebook to tell us how you use FUSTINI'S or to learn more about how to enhance your food with Fustini's. |