Just In...
From pampering to protecting--that's the shift we've made at Fustini's. We feel very confident we've got you well protected but we sure do miss the pampering. We enjoy so much hosting you, our guests, in our tasting rooms. Now, hosting you wearing a mask is beyond difficult. So much is lost communicating feelings when you've got 50% of your face covered! But we are confident we're protecting everyone very well and we remain patient waiting for the day when we can again share oil and vinegar tastings and create flavoring and cooking ideas together.
I hope you enjoy the green ideas in today's newsletter...from "Asparagus Tips," to fresh green first harvest SELECT Extra Virgin Olive Oils, to new easy to recycle corrugated intermediate packaging.
Stay safe and eat well. We will be together soon.
--Jim

Facebook Live--Fridays at 3 pm!
Join us for this week's "Fridays with Fustini's," All Things Asparagus, on Friday, June 5 at 3 pm EST. Katie and Denise will show you different ways to cook with this springtime favorite. We are so in love with asparagus that we have over 50 recipes on fustinis.com that feature this Michigan produce.
Tune in HERE and she will also be able to answer any questions you submit during the session. FaceBook olive oil and vinegar sets will be available at a 15% discount.
Last week's sets are available through today (June 4). New product sets will be available starting Friday to coordinate with the new recipes presented. You can see current sets on our website in the "New Items" category.
If you missed a Friday, previous Facebook Live events can be seen on our Youtube channel.
Fustini's SELECT Olive Oils are Liquid Gold!
This month, the New York International Olive Oil Competition awarded our three Spanish olive oils gold medals.
The Fustini's management team saw the harvest, milling and immediately sampled this selection of Arbequina, Picual and Frantoio Extra Virgin Olive Oils.
These highly aromatic and vivid green oils are still available while supplies last.

3 simple ways to get your oils and vinegars
Until we are able to offer tastings, we encourage you to choose one of our 60ml bottles for free. Just request your sampler bottle with your order or add to "instructions" with an online purchase.
1. Online Ordering
• Become a member of our Frequent Buyer Program. Benefits are listed here.
• For Frequent Buyer Members ordering online - this short video will explain the steps to link to your current account.
• Online orders are not available for curbside service
2. Curbside Ordering
• Call or email your store for a curbside order. Information is listed below. This short video will show you how it works.
• Give your information for being a part of our Frequent Buyer Program. Benefits are listed here.
3. In-Store Shopping

• Things may look a bit different, but we are here to help you in making healthy, delicious food choices! When you visit as a guest, there are some of the changes are posted making sure to keep you and Fustini's staff safe and comfortable.
• Give your information for being a part of our Frequent Buyer Program. Benefits are listed here.
• Know we have a smile for you under our masks.
Curbside and Store Hours
With our curbside pick up option, you can drive up for your order at any of our four stores, updated hours are listed below. Here's a quick video to show you just how easy this works, CURBSIDE.
Traverse City (231) 944-1145 • karen@fustinis.com
Mon-Sat 10-5 pm, Sun 10-4 pm
Petoskey (231) 758-3575 • charlene@fustinis.com
Mon-Sat 10-5 pm, Sun 11-4 pm
Holland (616) 392-1111 • lori@fustinis.com
Monday-Saturday 10-4 pm: Sunday 11-3 pm
Find us at the Holland Farmer's Market, Saturdays from 8-2 pm.
Ann Arbor (734) 213-1110 • nanci@fustinis.com*
Tues-Sat 10-3 pm: Contact Free pick up 2nd floor
*Please note: Ann Arbor pick up is on the 2nd floor of Kerrytown. Online orders are not available for curbside service.
Quick Links
---
Featured Fustini's Recipes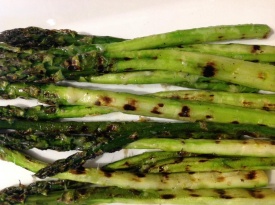 Use asparagus to brighten up your dish, like in this recipe:
• Asparagus is also a great substitute for pasta. Try it in this asparagus with pancetta recipe:
• This unique recipe of Chef Andy's is sure to surprise your family:
---
Ann Arbor's Delicious Decade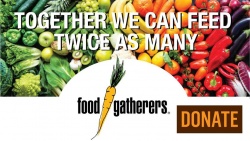 Fustini's Ann Arbor is celebrating 10 years with their Delicious Decade fundraiser. From now through August, we will donate $1 for every bottle purchased to Food Gatherers of Washtenaw County, along with matching any donation made through this Facebook link up to $5,000.
---
Environmentally Green Packaging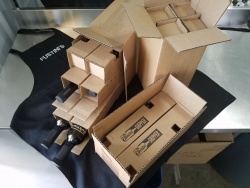 In our commitment to reducing waste, Fustini's is excited to announce new packaging for your shipping orders.
Pictured to the right, these boxes are made of corrugated cardboard and easy to recycle.
---
Kids' Food Basket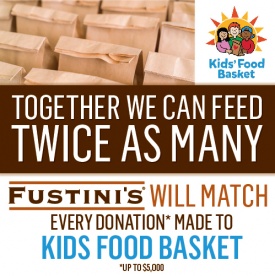 Last March we had to get creative, and moved from $1 per bottle donated to a campaign that was entirely online. Through the Facebook fundraiser, you donated over $2,800 to Kids' Food Basket (KFB). Along with a generous check from Fustini's owner, Jim Milligan, we are so excited to have helped raise over $7,800 for this amazing organization. Thank you--we would not have been able to do it without you!
---
| | |
| --- | --- |
| | Visit us on facebook to tell us how you use FUSTINI'S or to learn more about how to enhance your food with Fustini's. |